Pompano Beach Appellate Lawyer
Overturning a court decision is not an easy matter. When Florida residents are thinking about appealing the decision made by a lower tribunal court, hiring an experienced trial attorney who also is an experienced appellate lawyer can greatly enhance the successful outcome of an appeal. As an appeals attorney in Florida, Charles L. Curtis is well-versed in the requirements of both state and federal appeals. If you are considering filing an appeal in Florida, there are filing requirements and deadlines that you don't want to miss. Contact our office to schedule a case review and phone consultation today.
What is Appellate Law?
While the vast majority of Florida lawyers don't practice appellate law, it is a critical part of the United States judicial system. For those who have never been through the appeals process, it is helpful to have a basic understanding of this practice area. In an appellate review, there is no jury and no new evidence is gathered. An appeals court reviews the trial record, the written arguments, and the evidence gathered in the previous trial in order to determine if the original judgment should be overturned.
Many defendants look forward to their day in court, relying on the Florida justice system to uphold the letter of the law and render a fair judgment. There may be times when defendants feel the courts have rendered an incorrect, improper, or unfair verdict in their case. When a person is unhappy with the court's decision on his or her case, the Florida appeals process provides a possible avenue of resolution.
Regardless of whether your case is criminal or civil in nature, you have the right to due process of law. Your right to an appeal is both a state and a federal constitutional right. Finding the right attorney to represent you in the appeal process is critical to obtaining the best possible legal outcome. While some attorneys handle both criminal and civil cases, hiring one that specializes in one area over the other may be beneficial to your case, as he or she will have a focused experience and practice in your particular area of need.
What Types of Civil Cases are Appropriate to Appeal?
When it comes to filing an official appeal on a legal matter, civil cases have fewer restrictions on what types of cases are eligible for appeal. This is because civil matters generally do not involve the question of whether a crime has been committed or not. There are many types of civil cases that are appropriate for the appeals process, including:
Family law matters. These cases may be related to child custody, spousal support, guardianship, or decisions rendered on other similar matters.
Personal injury. Cases pertaining to physical and/or psychological injury as a result of another party's negligence are eligible for appeal.
Probate and estates. If a family member, devisee, or beneficiary disagrees with the court's decision with regard to a will, this can be appealed.
Commercial litigation. There are a wide variety business matters commonly litigated, including those pertaining to contract, real estate, construction disputes, and more.
Workers compensation. When litigants disagree with the court's decision on matters concerning work-related injury or incapacity, the matter may be appealed.
Depending on what type of civil case is being litigated, the Florida Rules of Appellate Procedures may be different for each case. While it might be tempting to represent yourself in your appeals case, we don't recommend it. This is because, whether you are an experienced attorney or someone who has no legal training, the Florida courts expect that you will adhere to the prescribed appellate rules. As such, it is essential to hire an appellate attorney who has extensive experience handling appeals cases, as he or she will be very knowledgeable about the applicable laws, rules, and procedures that govern the appeals process.
Are you considering appealing a recent decision in your civil court matter? When it comes to obtaining the best possible legal outcome on your case, you don't want to try to handle your legal fight on your own. Whether your case is related to a family law matter or commercial litigation, Charles L. Curtis, P.A. is here for you. As an experienced appellate lawyer in Pompano Beach, he has helped many Florida residents in the appeals process, and he would love to speak with you about your case. Call our team at 954-320-6276 today to schedule a phone consultation.
---
Why is it Important to Have an Appellate Attorney?
When you are considering filing an appeal on an important court decision, you want to do everything you can to ensure the best possible outcome for your case. Hiring an appellate lawyer may be beneficial for many reasons.
Experience
Those who are considering filing an appeal with the Florida courts should never underestimate the importance of experience in the legal appeals process. Unless you are well-versed in Florida appellate law, it is unlikely that you have the experience necessary to successfully present your case to the appellate court. An experienced appeals lawyer will have participated in many appeals cases, and he or she will have experience in both civil and administrative proceedings. When it comes to familiarity with appeals-related case law, the filing process requirements, and nuances specific to particular venues, there is simply no substitution for experience.
Knowledge
Presenting your grievances to a state or federal appeals court in hopes of a revised decision is not a task to be taken lightly. To be successful in the appeals process, it is critical that you adhere to the Florida Rules of Appellate Procedures, first and foremost. Even the smallest misstep with regard to a filing requirement or deadline can render your case ineligible for appeal. Additionally, the petitioner must be able to prove that there was an error committed in the original judgment and that the error is serious enough to warrant a modified or reversed verdict.
Court orders and decisions are presumed to be correct, and when trying to convince the court of appeals that there was a mistake made, you will need to meet a very high burden of proof that the tribunal court rendered an incorrect, improper, or unfair judgment. In the absence of the legal knowledge needed to properly prepare briefs that document these errors according to the prescribed appellate rules and requirements, you may receive an unfavorable outcome on your appeal.
Assistance with Filing Briefs
When filing an appeal, petitioners either file through the district courts of appeal or the Florida supreme court. Generally speaking, the intermediate district courts must consider appeal cases as long as they have been properly presented and filed within the prescribed time frame. If your appeals case is routed through the district courts, you want to be sure that you have an experienced appeals lawyer to assist you in preparing the briefs which detail the basis of your appeal.
If your appeals case goes to the Florida Supreme Court, it is even more vital to have experienced legal counsel in your corner. This is because the Supreme Court is discretionary, having the ability to decide whether or not it accepts jurisdiction over your case and whether or not it will review your case. This means that you may present your case to the Florida Supreme Court only to have it denied without even being considered. Much of the Court's decision on whether or not to review an appeal is based on the briefs that are presented during the filing process. An experienced appellate attorney will be able to prepare the briefs in an efficient and proper manner while also making compelling legal arguments to pique the Court's interest in the case.
---
Trust Your Appeals Case to an Experienced Appeals Lawyer
To ensure the best outcome on your appeals case, it is essential to work with an appellate attorney who has experience and knowledge. Attorney Charles L. Curtis has presented a great number and a wide variety of appellate cases to both state and federal courts, and he has more than 60 appellate court decisions reported. He has extensive knowledge of the appellate rules and procedures that govern the appeals process, and he is skilled at identifying errors and winning negotiation tactics to help you be successful in your appeal.
The array of successful cases Charles Curtis has handled demonstrates that he has the requisite knowledge and experience to solve your appellate needs. Contact our office at 954-320-6276 today to request a case evaluation and schedule a phone consultation. We look forward to assisting you with your Florida civil appeals case.
---
Steps in the Florida Appeals Process
As you take the first steps in filing your appeal, you are likely to have some questions related to the appeals process. Where do you start? What paperwork is required? What are the deadlines? These are just some of the questions petitioners are likely to have, and meeting with an appellate attorney can demystify the process. There are several key steps in the appeals process, including:

Determine if Your Case is Eligible for Appeal
In your initial discussions with your attorney, he or she will review key factors to confirm that your case is eligible for appeal. In general, there are a few essential requirements that must be met:
There must have been a judgment rendered on an appealable order
You must have documentation of the judgment
There must have an error related to fact, law, or procedure in your case
If you are an eligible party and have supporting documentation for these three elements, your attorney will guide you through the remaining steps.
---

File a Notice of Appeal
Once a trial court or administrative agency has issued a final order or judgment on a case, you may file a Notice of Appeal within 30 days from the day the judgment was issued. There may be instances in which the statute of limitations is different, as well as exceptions when appeals may be filed on non-final judgments, and your appeals attorney can verify this information for you.
---
Record Preparation and Docket Statements
After the Notice of Appeal is filed, you and your legal counsel will begin working with the trial court clerk to compile critical trial records and documents, such as the trial transcripts and the order or judgment made by the court. As the petitioner, it is your responsibility to ensure all relevant documents are secured, and you may only have 10 to 14 days to get this process started. Additionally, you may be required to file a docket statement that specifies the parties and issues you want to be reviewed during the appeals process.
---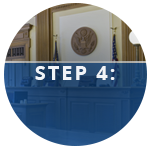 The Briefs
In addition to the trial records and docket, you are required to submit compelling briefs to the Florida appellate court which substantiate the reason for your appeals request. With the assistance of your attorney, you will prepare briefs that detail why you feel the original court order should be reversed or modified. Once your initial brief if submitted to the court, the court that handed down the original judgment can respond in an answer brief. You will then have the opportunity to rebut the court's defense in a reply brief.
---
Possible Oral Arguments
Aside from working with your appeals attorney to prepare the initial and reply briefs, you may also have the opportunity to prepare oral arguments to be heard by a panel of judges. This is not required in all appellate cases, but there may be instances in which the courts require them. Otherwise, if your attorney feels that oral arguments will benefit your case, he or she may request the court to allow them.
---
The Court's Decision
Finally, the court will consider the trial record, docket, briefs, and any oral arguments to determine whether or not the original order or judgment should be overturned or modified in any way. Once a decision is rendered, the appellate court will put their decision in writing. The court may agree with your argument that the initial judgment was flawed in some way, or the court may uphold the original decision. If you are not successful in your appeal, there may still be an opportunity to pursue a revised judgment, and your attorney will advise you accordingly on the matter.
---

Pompano Beach Appeals Lawyer
If you are considering appealing a recent court order or judgment, time is of the essence. Meeting with an experienced appellate lawyer can help ensure you don't miss important deadlines and filing requirements. Attorney Charles L. Curtis is here to answer any questions you have about the Florida appeals process, and if your case is eligible for appeals, he will gladly provide a case review and phone consultation. Contact our office at 954-661-8512 today to get started.